Robertson is all about total customer satisfaction. At Robertson, we firmly believe that our most important product is Service. Without great service, even the best products can cause problems for a purchaser. When every department in our entire company is focused on excellent quality service, it means low costs and totally satisfied customers.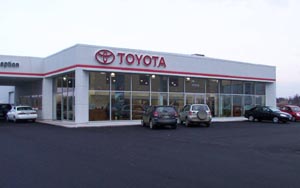 Founded in 1863, we've accumulated over 140 years of valuable growth-oriented experience in the construction industry. Robertson's long history assures you that we've developed solutions for similar needs many times before. Our financial stability is a further assurance that we'll be around to support our Builders and our products. We've learned that no one knows construction better than building contractors in their own markets. That's why we carefully select qualified independent design build contractors to be Robertson Builders. An Authorized Robertson Builder is a true construction professional. We take great pride in
our top-quality products. While we constantly strive to be the low-cost producer, Robertson consistently ranks above industry standards in terms of product quality. Our Quality Assurance Program is effectively managed to ensure that every component in all building projects shipped to construction sites is of the highest quality and can be assembled as planned. As a result, customers normally take occupancy sooner; some estimates show time savings of as much as one-third that of conventional construction time. Superior standard products such as galvanized purlins and girts mean that Robertson Buildings withstand the ravages of weather better, cost less to maintain, last longer and thereby provide a low life-cycle cost for building owners. And that's what Robertson is all about – totally satisfied customers.